Towson University
Towson, Maryland
Originally Division III, Towson University desired to move its athletic program to Division I-A, following a move to Division I-AA. The facilities were inadequate: poor field conditions for football, soccer, lacrosse, and field hockey; no permanent concessions, restrooms, locker rooms, or dressing areas; minimal ticket booths and press box; and inadequate dressing rooms, equipment rooms, storage areas, and training rooms for intercollegiate athletics. Mr. Esposito was engaged to:
Analyze and evaluate the building and site conditions of Minnegan Stadium;
Develop both a master plan and program requirements for the renovation of existing facilities and expansion;
Develop concept alternatives, schematic design, and construction cost estimates.
The resultant program translated into a $30,000,000 phased renovation and new construction plan that would:
Expand stadium seating from 6,000 to 15,000.
Construct a new press box and VIP seating.
Provide permanent toilet, concession, and ticket booth facilities.
Reconstruct field surface and surface, including installation of a sprinkler and drainage system, relocate and upgrade lighting, and replace the scoreboard.
Provide changing rooms for participating teams and meeting rooms for officials.
Provide offices and training rooms for the football and lacrosse teams, as well as training facility for all athletic programs.
The effort also included preparation of an architectural rendering that was used in Towson's capital fund campaign to finance this project.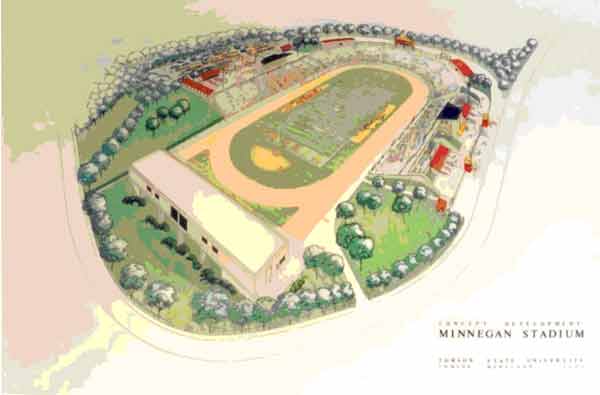 In addition, Mr. Esposito provided assistance to the University in two updates of their Facilities Master Plan (1990 and 1997) and also programmed facilities for the College of Liberal Arts and for the College of Health Sciences.

<< Back To Projects